One of the renewable natural resources most severely impacted by fracking is groundwater.  The fluid used throughout the process carries with it very toxic chemicals, which inevitably leak into the local groundwater systems and contaminate drinking water.  Aside from the obvious social and environmental implications of fracking, groundwater contamination carries with it an economic cost as well.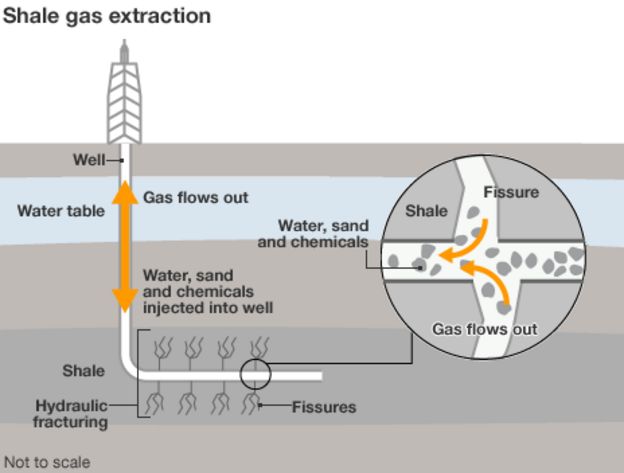 One of the biggest problems of fracking with regards to groundwater contamination is the use of horizontal wells.  These wells carry with them the toxic fracking fluid, and are four times more likely to leak as conventional vertical wells.  The economic drawback to leaky wells is the need to replace them.  With failure rates in Pennsylvania as high as 8.9% in newly drilled wells, this could mean thousands of replacements that the fracking companies have to pay for.  Maintaining and fixing these wells becomes especially important when they lie in areas where groundwater contamination affects local residents.
Furthermore, a steadily increasing U.S. population reflects the increased global need for fresh water.  Any large-scale water contamination means the contamination of a valuable resource.  Although many may overlook this factor, water, especially groundwater, carries with it an economic value.  Half of U.S. households rely on groundwater, and "in the United States, Oil and Gas drilling accounts for about 1% of total water consumption".
Groundwater contamination has been shown to lower property values, and the need to truck in fresh water for the sake of fracking itself carries with it a cost for fracking companies.  Through a refinement of the process used to construct wells, the danger of leakage can be reduced by 50% by some estimates.  Although changing the protocol and technology for well digging would bring with it immediate economic costs for the companies, the long term impacts of safer methods would show a more fiscally and environmentally responsible approach their business.
Sources:
Economic Analysis of Water Resources Used in Hydraulic Fracking