Fracking is arguably one of the more polarizing issues plaguing the nation currently. While there are numerous stakeholders taking a multiplicity of perspectives, the discussions often seem to fall into a dichotomy between economics and the environment. It is easy to boil down an opinion on either topic– fracking has been very profitable for energy companies, yet clearly disrupts ecologies–but it is also important not to trivialize the matter. In order to truly gauge the impact of fracking, Finewood and Stroup suggest a larger-scale examination of the hydro-social cycle, the relationship between water and society.
At an EPA hearing in 2011, public commentary was opened up for the first time in reference to the study on fracking. People from both the economic and environmental sides came out in full force, with representatives from organizations such as the Damascus Citizens for Sustainability and the Independent Oil and Gas Association of New York State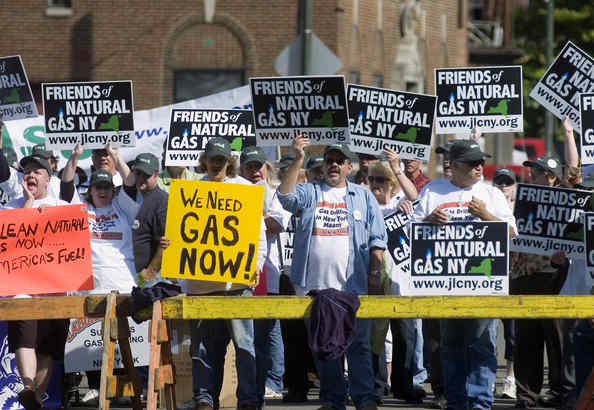 Finewood and Stroup's neoliberalism argument asserts that a cost-benefit analysis has been implemented to shift focus away from the environmental, hydro-social, and human rights impacts of fracking and incorrectly emphasize the economic benefits. The authors argue that the more powerful stakeholders have been able to shift the narrative by negating the importance of water as a resource and framing natural gas as a sustainable form of energy. To argue that only powerful stakeholders hold this opinion, though, is misleading. In Maykuth's article on the EPA hearing, he notes that public sentiment is mixed. Local economies in the Marcellus Shale region are seriously struggling, and oftentimes these small communities hold the same perspective as the large private sector energy companies. Though this may be a result of the spread of misinformation, we should still remember not to put constraints on various stakeholder perspectives. We must account for within-group differences and unlikely overlaps in opinions, yet constantly analyze these relationships through the lenses of neoliberalism and the hydro-social scale, as power relations are deeply embedded in our society.
"Fracking and the Neoliberalization of the Hydro-Social Cycle in Pennsylvania's Marcellus Shale"
"Strong Positions on Either Side of 'Fracking' at EPA Hearing"